Workshop
Zoom Yourself In! Architectural Selfies – 22.03.
Workshop in the framework of the Wiener Ferienspiel (ages 10+)
Tue 22.03.2016, 10:00-12:00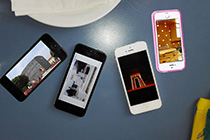 Dates: Mon, 21.03 / Tue, 22.03 / Wed, 23.03 / Thu, 24.03 / Fri, 25.03.2016, from 10am to 12 noon
The selection of the detail is decisive in photography. Are there people in the shot, or not? We look at such things more closely in the exhibition "Zoom! Picturing Architecture and the City", then we wander the MQ in search of interesting locations. We photograph and present these: With or without us? From what perspective? Perhaps with a pink filter? We use the Internet for the presentation.
Registration required: T +43 1 522 31 15 oder office@azw.at