Exhibition
Zoom! Picturing Architecture and the City
An exhibition by the Architekturmuseum der TU München (Pinakothek der Moderne)
Thu 10.03.2016 – Tue 17.05.2016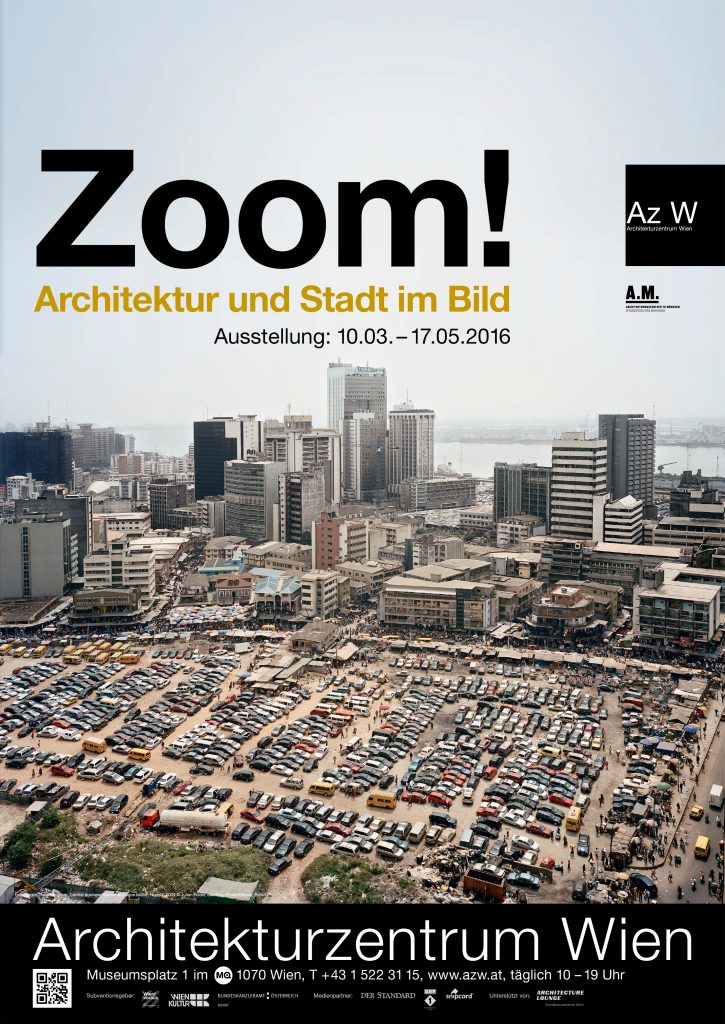 An exhibition by the Architekturmuseum der TU Munich
Opening
Welcome adress: Dietmar Steiner, Director Az W
Hilde Strobl, Curator, Architekturmuseum TU München
Maria Vassilakou, vice-mayor and vice-governor, executive city councillor for urban planning, traffic and transport, climate protection, energy and public participation, Die Grünen Vienna
There is a radical shift underway in the responsibilities of contemporary architecture. Architectural photography plays a key role as a medium of communication and presentation between architects, clients and the general public. Ongoing global urbanization and growing problems caused by migration and social inequality have become focus points for more and more photographers who are documenting the changing realities and their impact on the living, working and lifestyle conditions of humanity.
The exhibition by the Architekturmuseum/TU München is being adapted for the Az W in a slightly smaller format. 'Zoom!' features photographs and video works by thirteen contemporary international photographers whose focus lies beyond images aimed at representation. The images focus on the depiction of the traces of the mutual interdependence between society and architecture when the construction firms have left the site, or the way that urban and village structures are changing through the population and its social and cultural fabric, or economic factors. The juxtaposition of images from different countries and continents — from Italy to Mexico and China — encourages comparisons.
Photographs and videos by Roman Bezjak, Peter Bialobrzeski, Livia Corona, Nicoló Degiorgis, Jörg Koopmann, Eva Leitolf, Ulrike Myrzik & Manfred Jarisch, Stefan Oláh, Julian Röder, Simona Rota, Andreas Seibert, Fabian Vogl, Rufina Wu & Stefan Canham
Curated by Hilde Strobl, Architekturmuseum der TU München
Guided tour of the exhibition: Wed 16.03 & 13.04 and Sat 09.04.2016, at 5.30pm
Combined Ticket 1 Ticket – 2 Museums
"Zoom! Picturing Architecture and the City" at the Architekturzentrum Wien
"Peter Piller. Belegkontrolle / Anita Witek. About Life" in KUNST HAUS WIEN
Period: 10.03.2016 – 17.05.2016
Ticket 15 €, available at the Az W Shop and the KUNST HAUS WIEN
Public Funding:
Geschäftsgruppe – Stadtentwicklung, Verkehr, Klimaschutz, Energieplanung und BürgerInnenbeteiligung
The Arts Division and the Culture Division of the Federal Chancellery of Austria
Geschäftsgruppe Kultur und Wissenschaft
Sponsor: ARCHITECTURE LOUNGE
Opening of the exhibition 'Zoom! Picturing Architecture and the City', March 9 2016 at the Architekturzentrum Wien.