Exhibition
x projects by arbeitsgruppe 4
Holzbauer, Kurrent, Spalt (1950 – 1970)
Thu 04.03.2010 – Mon 31.05.2010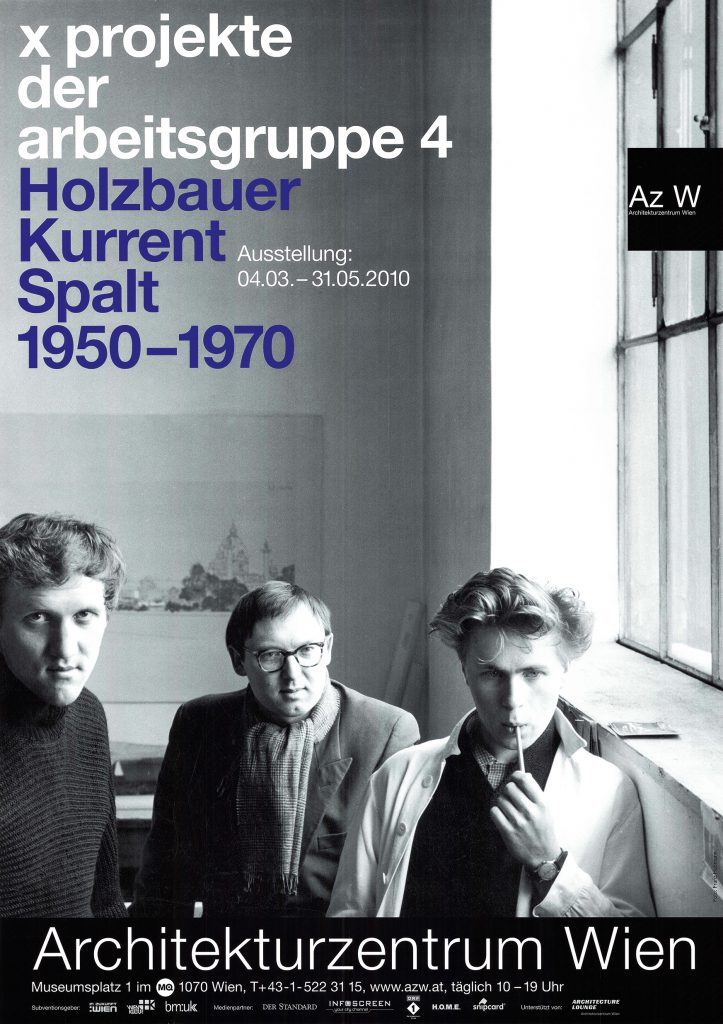 Speakers at the opening:
Dietmar Steiner, director Az W
Sonja Pisarik, Ute Waditschatka, curators of the exhibition, Az W
Karin Wilhelm, Braunschweig University of Technology
Michael Ludwig, deputy mayor Vienna
The exhibition focuses on the complete oeuvre of arbeitsgruppe 4, which is being shown now for the first time: a manageable number of completed projects, as well as numerous projects that could not be realised. The group may be relatively well- known – communicated primarily by the strong personalities of the protagonists Wilhelm Holzbauer, Friedrich Kurrent and Johannes Spalt – however, this notwithstanding, it has achieved an almost mythical status in the more recent architecture history of Austria. People interested in architecture know their work, but the precise details, background and context of the projects are largely still unknown. Neither any substantial reworking of source material nor any attempt at a representation from a temporal and personal distance has been undertaken to date. The Az W is now taking up this challenge, and is showing the enthralling and still relevant work of the '3/4'.
An extensive catalogue of 256 pages, 'arbeitsgruppe 4. Wilhelm holzbauer, Friedrich Kurrent, Johannes Spalt. 1950–1970', is being published to accompany the exhibition. With texts by Friedrich Achleitner, Gabriele Kaiser, Siegfried Mattl, Sonja Pisarik, Ute Waditschatka and Karin Wilhelm.
Edited by: Architekturzentrum Wien
Published by: Müry Salzmann Verlags GmbH
Graphic design: Peter Duniecki Designstudio
(In german only)
Curators: Sonja Pisarik/Ute Waditschatka, Az W
Exhibition architecture: polar÷. Margot Fürtsch, Siegfried Loos
Exhibition graphics: Peter Duniecki Designstudio
Public Funding:
Geschäftsgruppe Stadtentwicklung und Verkehr
Bundesministerium für Unterricht, Kunst und Kultur
Geschäftsgruppe Kultur und Wissenschaft
Sponsor: ARCHITECTURE LOUNGE
The exhibition "x projects by arbeitsgruppe 4" in the Az W's Old Hall.
Opening: March 3, 2010