Workshop
Workshop: My House, Your House, Our House (4)
Educational programme to accompany the exhibition 'Ottokar Uhl'
Sat 11.06.2005, 15:00-23:59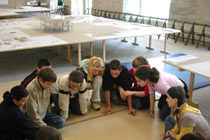 The architect Ottokar Uhl took a broad flexible approach to designing his housing projects in order to comply with the occupants' wishes as far as possible. Participation in the decision-making process was his creed. Together we discuss the key steps in creating a house.
What are the architect's tasks?
What are the load-bearing building elements?
And what is meant by circulation or services?
To what extent can prospective residents have a say in
the planning process, influencing the design?
In a group project we draw up some of the rules of communal life, and in a practical exercise we use this
experience and test the rules in a model house.