Workshop
Workshop for children: Duckburg (6)
On the trail of urban development with Donald Duck and his three nephews, Huey, Dewey and Louie
Booked up!
Tue 30.08.2005 – Wed 31.08.2005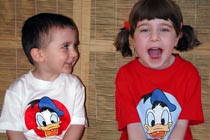 Workshop for children aged 6 and over
The staring roles are played by Donald Duck – the cartoon character from America – and his hometown. We study the architecture of Duckburg together: the road network, spaghetti junctions, urban structure, Downtown Duckburg, the residential area, skyscrapers with skywalks and systems of tunnels, and much more.
Then we build our own Duckburg.
Fixtures:
Mon. 8.8 + Tue. 9.8
Tue. 16.8 + Wed. 17.8
Thu. 18.8. + Fri. 19.8.
Tue. 23.8 + Wed. 24.8
Thu. 25.8. + Fri. 26.8.
Tue. 30.8 + Wed. 31.8
10am – 2pm
Please bring a packed lunch and overalls for painting! Reservations: T +43-1-522 31 15 or office@azw.at