Workshop
Workshop for Children: A change of scene
One space, three faces
Sat 22.04.2006, 15:00-17:00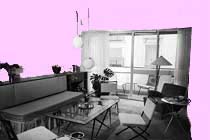 Maximum generosity with a minimum floor area:
this was the motto of architect Walter Loos.
This time the workshop in the Architekturzenturm Wien examines the intelligent subdivision of space,
flexible furniture and optimum use of light.
In the practical part that follows we build our own single-room apartment.
Duration: 2 hours
Reservations: 01-522 31 15 or office@azw.at
School groups can also arrange an individual appointment anytime at: 01-522 31 15-27 or office@azw.at.