Workshop
Workshop for Childern: The Adventure of Underground Worlds – October
Smell, Taste and Discover
Sat 15.10.2005, 15:00-23:59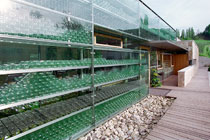 For the Youngest
This voyage of discovery leads us into the mythical world of the cellars made for new buildings of wine. How are these elegant fair-faced concrete halls embedded in the landscape? Smell and tasting stations go further to stimulate our senses. During the practical exercise budding young architects can show their potential by trying their own hands at building for themselves in the setting of the current exhibition – the client is, of course, a wine-grower.
Schedule
Sat. 15.10.05, Sat. 17.12.05, Sat. 14.01.06
at 3pm
School groups can also arrange an individual appointment anytime at: 01-522 31 15-27 or office@azw.at.