Exhibition
Wonderland
Young architecture from Europe
Thu 08.06.2006 – Mon 19.06.2006
Daily 10:00 AM - 07:00 PM, Wednesdays until 09:00 PM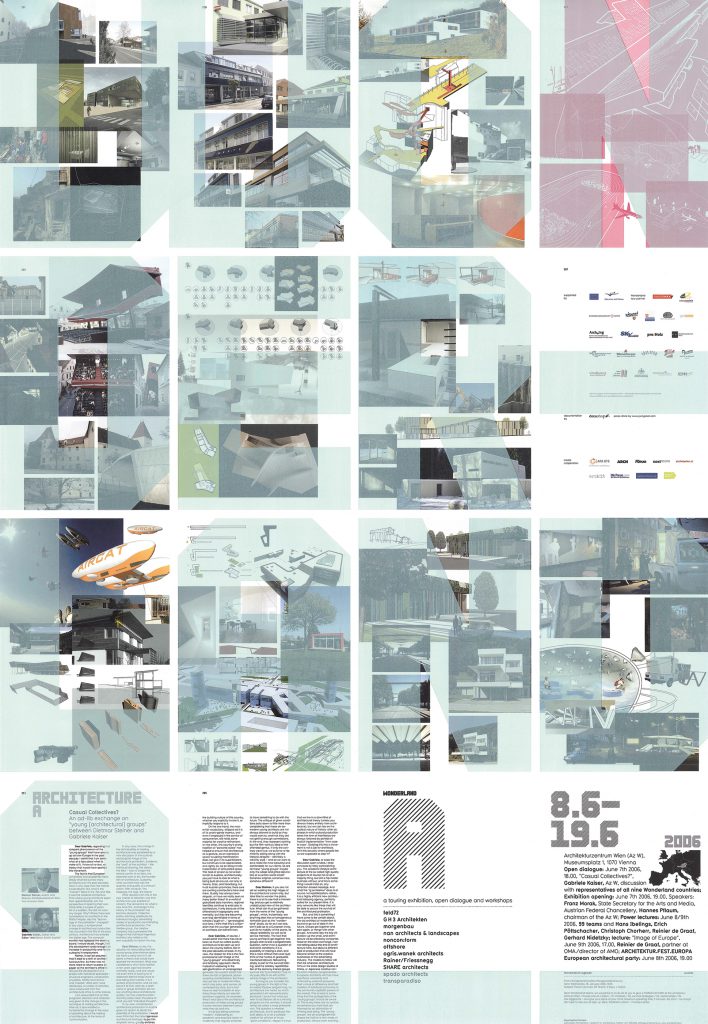 6 p.m.: Open Dialogue
"Casual Collectives", Gabriele Kaiser, Az W
Presentation of the magazine "wonderland 1: Getting Started" Dialog with 9 participants of WONDERLAND
Presentator: Amir Aman
7 p.m.: Opening
Since June 2004 eleven Austrian teams of architects of the younger generation have been touring with a constantly growing architecture exhibition accompanied by open dialogues and workshops, in the process visiting nine European countries (Austria, Slovakia, Czech Republic, Germany, Netherlands, France, Italy, Croatia, Slovenia).
In June 2006 they will return to Austria with 88 European teams of architects: at each stop, in accordance with the concept of European integration, a further eleven national teams joined the group. Therefore 99 teams will now share the exhibition landscape consisting of 440 square information media – the "pixels". This is a virtual territory, a "Wonderland" that approaches the contemporary practice of architecture along heterogeneous paths. The expanded and compressed exhibition illustrates both the diversity of positions and the internationalisation of the European production of architecture and is intended to stimulate exchange, communication and active networking.
In the exhibition, which will be opened on 7 June in the Architekturzentrum Wien in the context of Austria's presidency of the European Council, in addition to the work and positions of the 99 teams the exciting process of building up the Wonderland network and a documentary film of all nine exhibitions can also be viewed. In addition, on 8 and 9 June 2006 all 99 teams will introduce themselves in a two-day "marathon lecture series" on the themes "mistakes", "survival strategies", "relationships" and "the biggest lie".
The EUROPEAN.ARCHITECTURE.PARTY on the evening of 8 June 2006 – a celebration organized jointly by the Architekturzentrum Wien, the Architekturtage 2006, the European Forum for Architecture Policies, the Federal Chancellery, the City of Vienna and Wonderland in the courtyard of the Architekturzentrum – will be the crowning event of a unique European architecture project.