Exhibition
Wonderlab ?"24 Hour City – All Inclusive"
Eine Kooperation von wonderland – platform for european architecture mit dem Architekturzentrum Wien
Thu 08.08.2013 – Sun 25.08.2013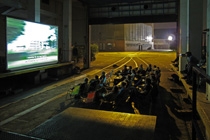 In 2013 wonderland celebrates its eleventh year in existence. In addition to a retrospective look, as a platform active throughout Europe wonderland will, in the framework of an "interactive" exhibition in the Architekturzentrum Wien, continue to intensify the exchange of current tendencies in architecture and urbanism, which it has been conducting now for more than a decade, and to promote the networking of young architects and will present this work to a wider public.
With these aims in mind between 07 and 25.08.2013 in the Az W the transnational network will be condensed into a temporary wonderland headquarter, an urban research lab focused on the social relevance of architecture and urbanism.
In this interactive work and production space in accordance with this year's wonderland theme "connecting, sharing, creating space!" two teams selected by means of an "open call" will negotiate themes of relevance to Vienna. In the context of an open cooperative planning process the teams, in two different workshops (project space), will engage in an intensive discourse with the competition organizers, the specialist experts (the city), politicians and other stakeholders. "wonderlab" sees itself as a think-tank for new ideas, urbanity and a living Vienna – the boundaries of planning will be newly charted, and urbanity rethought.
"wonderlab" is a major happening aimed at encouraging an intensive discourse and the practical exchange of ideas and information. It offers an opportunity to form a picture of the current areas in which young, Europe-oriented architecture practices operate. "wonderlab" offers a chance to involve a wider public in the themes of urbanism and architecture and to heighten the awareness of the social relevance of architecture and urban interventions.
Public Funding:
Urban Planning, Traffic & Transport, Climate Protection, Energy and Public Participation
Bundesministerium für Unterricht, Kunst und Kultur
Geschäftsgruppe Kultur und Wissenschaft
Sponsor: ARCHITECTURE LOUNGE