Lecture
Wolf D. Prix
Beyond the Blue
Fri 10.06.2005, 19:00-21:00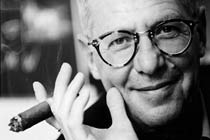 Coop Himmelb(l)au is at present Austria's most active and best-known architectural export. At the beginnings of the 1960s this practice started to formulate its philosophy in the form of concepts and avant-garde projects. The built implementation of their ideas began outside Austria in the early 1990s, and is being continued today more successfully then ever.
"We are harvesting the fruit of our sufferings" is how Wolf D. Prix (whose declared role model was and remains the Rolling Stones) describes the practice's current intensive activity in the areas of both planning and building.
He will present a number of their projects in a working report delivered as part of the series "Austrian Architects Build Abroad, Foreign Architects Build in Austria".