Presentation
wienwood 15. Timber Building Prize, Vienna
Award-giving ceremony and presentation of the prize-winning projects
Thu 24.09.2015, 19:00-21:00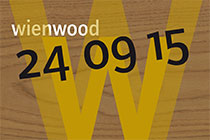 An initiative by proHolz Austria in cooperation with the Architekturzentrum Wien and the City of Vienna
Dietmar Steiner, director Architekturzentrum Wien
Hermann Wedenig, City of Vienna Construction Office
Tom Kaden, architect, jury member
Hans Michael Offner, chairman proHolz Austria
Judit Havasi, deputy director general Wiener Städtische Versicherung
Moderated by: Franziska Leeb, architecture journalist
In recent years a number of outstanding timber buildings have been erected in Vienna. wienwood 15 awards prizes to projects in which wood plays a central role as a modern building material. The aim of this award is to encourage architecture, to highlight it, and to pay tribute to the work of architects, clients, building firms, and decision-makers. The prize-winning projects can be seen on the evening of the opening in Halle F3.
A jury of experts – Robert Böhm (Head of Timber Building Guild, Vienna), Tom Kaden (architect), Otto Kapfinger (journalist), Sylvia Polleres (Timber Research, Austria), Reinhard Wiederkehr (structural engineer) Dietger Wissounig (architect) awarded six prizes and five commendations in the categories Housing, Public Buildings, Commercial Buildings, and Interior Fitting-Out/ Design of Outdoor Space/Other. The prize-winning projects can seen in Halle F3 on the evening of the exhibition opening.
Admission is free of charge!
Media partner: Der Standard
Sponsored by: Wiener Städtische Versicherung