Workshop
When buildings scrape the sky … (1)
The summer programme of the Architekturzentrum Wien, for children from the age of six
Fri 27.07.2001, 15:00-23:59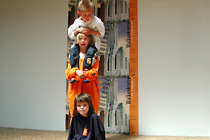 Do you know which are the highest buildings in the world? Or do you know what a paternoster is? What is, actually, a steel frame building? How come a 300 foot high building doesn't topple over in a high wind?
If you come to the Ringturm, one of Vienna's oldest high-rise buildings, the little mascot will reveal the answers to these and many other questions. Here you can try out a paternoster lift straight away and travel in it up to the clouds (well, almost).
An exhibition tour laid out like a game is designed to provide information and afterwards enables one to experience the theme with all one's faculties, that is children are encouraged to play an active part themselves. There are puzzles to be solved, in the AZW crafts corner you can find things with which to build a skyscraper and, finally, there is a treasure to be discovered, hidden by our mascot for our little visitors.
reservation at:
Alexandra
Architekturzentrum Wien
Museumsquartier – Museumsplatz 1
A-1070 Vienna
Phone ++43 1 522 31 15 – 27
Fax ++43 1 522 31 17
email marketing@azw.at
price :
ATS 40,–
For "smallpartners" of the AZW the workshop is free of charge
duration :
2 hours