Presentation
What's Up? Young architecture from Switzerland and Austria
Wed 14.10.2015, 19:00-21:00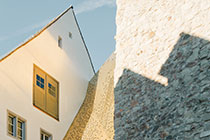 A cooperative venture between the Az W, the Swiss Association of Engineers and Architects SIA, and the Swiss Embassy in Austria
Welcome adress:
Stefan Cadosch, president of the Swiss Association of Engineers and Architects SIA
Christoph Bubb, swiss ambassador to Austria
Lectures on their work by:
Pat Tanner, :mlzd (Biel)
Johanna and Gregor Schuberth, Schuberth und Schuberth, Architektur und Innenarchitektur (Vienna)
Gabriela Mazza, mazzapokora (Zürich)
Michael Salvi, Schenker Salvi Weber Architekten (Vienna/Bern)
Followed by a panel discussion
chaired by Karoline Mayer, Az W
Young architects from Switzerland and Austria meet in the Az W. Through lectures about their work and discussions the different approaches to urban design and architectural questions are compared and experiences exchanged. The "architectural exchange programme" of the Az W casts light on the differences in the professional role and the practice of architects in the two countries.
Admission is free of charge!