Presentation
What's up?
Young Architecture from Sweden and Austria
Wed 17.05.2017, 19:00-21:00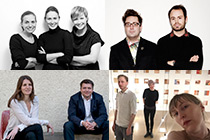 Young architects from Sweden and Austria meet in the Az W.
In lectures and discussions different approaches to urban and architectural tasks are compared and experiences are exchanged. The "architectural exchange programme" of the Az W showcases differences in the professional image and the practice of architects in the respective countries.
This event will be held in English!
Tip: on Thursday 18.5. at 7 pm the event "SUPER TROUPER. Junge Architektur aus Schweden" will take place in the Haus der Architektur in Graz, with the architecture offices Elding Oscarson and Karin Matz.
Welcoming address: Helen Eduards, Swedish Ambassador to Austria
Lectures and panel discussion with:
Karin Matz architect and secretary (Stockholm)
Architecture office bogenfeld (Linz)
Elding Oscarson (Stockholm)
illiz architektur (Vienna and Zürich)
Presenter: Karoline Mayer, Az W
Cooperative undertaking between the Az W and the Swedish Embassy, Vienna