Accompanying Programme
Whatever happened to postmodernism?
An event to accompany the exhibition 'At the End: Architecture'
Wed 22.02.2017, 19:00-21:00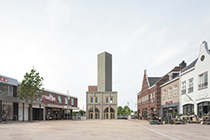 This event will be held in English
Guests:
Hermann Czech, architect, AT
Elise Feiersinger, architect, AT
Job Floris, MONADNOCK, NL
David Kohn, architect, UK
Dietmar Steiner, former director of the Az W, AT
Moderated by Lorenzo De Chiffre, faculty for architecture and planning at Vienna University of Technology
For a long time it was actually frowned upon to work with historical references in response to the controversial 'postmodernists'. Even construction in existing contexts was dominated by emphasis on the 'new' rather than the 'old'. The key word was innovation — the wheel had to be reinvented for every project, every piece of furniture.
Today there is a generation of architects for whom cultural continuity means nothing, which is something to be overcome. This generation engages with the past, builds on it and works with quotations and ornamentation. The starting point is always the contextual aspect and the goal is to create a "whole" that can serve users as a calm, familiar background.
But where is the boundary between contextualisation, critical reconstruction and mere nostalgia? It is not for nothing that it is said that people long most for the distant past in times of upheaval.