Workshop
Water-colour painting with Albert
Workshop in the framework of the exhibition (for all ages)
Sat 19.09.2015, 15:00-23:59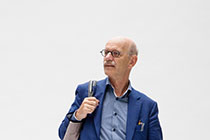 Support programme "One Room for Five. Twenty Architectural Years"
What does watercolour painting have to do with architecture? More than you would think, as spontaneity, the direct perception and translation of spaces and moods, precision, conveying emotions, and reduction are of great importance to both art forms. With a sharp eye and with artistic reduction, lively images of situations emerge that convey a sense of having actually been there for the viewer. We explore how artworks are created with water and pigment together with the architect Albert Wimmer, who is taking us with him into the world of swimming structures.
The workshop will only be held with a minimum of 8 participants.
The educational programme for the exhibition "One Room for Five" will be implemented personally by the five architects.
Reservations required: T +43 1 522 31 15 or office@azw.at