Lecture
Volksvorlesung 2: Architecture and Ideology
Jan Tabor, Architecture Theorist & Ingrid Holzschuh, Architecture Theorist
Wed 15.05.2013, 19:00-21:00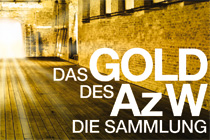 The Modern Ständestaat
Jan Tabor, architecture theorist
The Austrian Ständesstaat and Austro-fascism were influenced by Italian fascism. This was characterised by a radical modernity in art and architecture employed for propaganda purposes. Numerous building projects of the Austro-fascist era demonstrate both their Italian influence as well as the cluelessness of the authoritarian regime in its attempts to combine international modernity with Austrian folkloric features.
Nazi Architecture and Urban Development in Metropolitan Vienna. Case studies
Ingrid Holzschuh, architecture theorist
The largely unrealised building projects commissioned by the Nazi regime are missing from a contemporary perception of the history of Vienna. With a first insight into the Nazi archives of Klaus Steiner, now in the care of the Az W, references are made to the planning euphoria that was sparked off in the city 75 years ago, and the search for its traces in the urban fabric begins.
Volksvorlesungen
With the 'Volksvorlesungen' (lectures for the people) the Az W wishes to recall the educational services and ambitions of 'Red Vienna' and to appeal to a broad public with lectures that relate to architecture. On three separate evenings themes referred to in the exhibition will be presented and examined in depth. Important architecture theorists and protagonists focus on significant aspects of Austrian architecture, landscape planning and urban development.
Event in German only
Admission free!