Lecture
Volksvorlesung 1: The 1950s: A Decade of Upheavel and Change
Friedrich Achleitner, Architecture Theorist & Gabriele Kaiser, Head of the Architekturforum Linz
Wed 10.04.2013, 19:00-21:00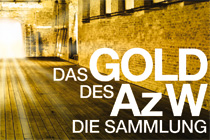 The 1950s: A Decade of Upheavel and Change
Friedrich Achleitner, Architecture Theorist & Gabriele Kaiser, Head of the Architekturforum Linz
After the end of World War II building activity was concentrated almost exclusively on reconstruction. Linking to the traditions of Red Vienna a rapid construction programme was introduced to alleviate the housing shortage, while buildings of importance for the Republic's sense of identity, such as the Parliament, Opera House, St Stephen's Cathedral and National Theatre were to be rebuilt as quickly as possible. In cafés, pavilions and shops a new kind of lightness appeared, in the areas of school and church building new architectural approaches were tried out. The next generation of architects asserted itself and re-established the position of Austrian architecture in the international context.
Volksvorlesungen
With the 'Volksvorlesungen' (lectures for the people) the Az W wishes to recall the educational services and ambitions of 'Red Vienna' and to appeal to a broad public with lectures that relate to architecture. On three separate evenings themes referred to in the exhibition will be presented and examined in depth. Important architecture theorists and protagonists focus on significant aspects of Austrian architecture, landscape planning and urban development.
Event in German only
Admission free!