Presentation
Visionaries in Exile
A cultural journey from Austria to America
Mon 03.06.1996 – Thu 31.12.1998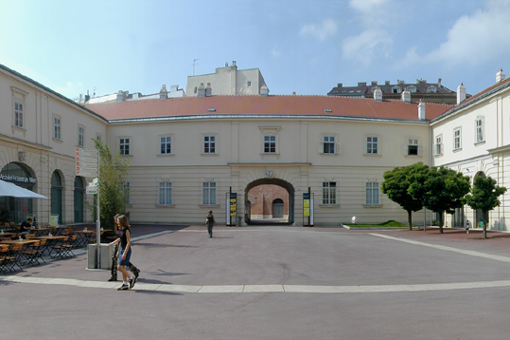 CD-ROM Presentation
Visionaries in Exile is the first CD-ROM production focusing on Modern Architecture. It recalls the history of twenty Austrian architects – among them Joseph Urban, Rudolph M. Schindler, Richard Neutra, Frederick Kiesler, Bernard Rudofsky, Victor Gruen, Josef Frank and Anton Tedesko – who emigrated or were forced to emigrate to the USA before 1941 and contributed significantly to American architecture.
Visionaries in Exile was first presented to an international audience during the 8th Congress of the ICAM at the New York Museum of Modern Art on May 22nd 1996. The Austrian Cultural Institute New York and the Architekturzentrum Wien are organizing an ongoing series of presentations of the CD-ROM at several American museums and universities, starting at Columbia University New York on June 3rd, 1996. The programme is presented in a specially designed pavilion containing four workstations. Further destinations will be Harvard University, the Carnegie Institute of Technology, University of California, the University of Minnesota a.o.
Visionaries in Exile – A cultural journey from Austria to America – was produced by Vienna based Science Wonder Productions in cooperation with the Gesellschaft zur Förderung Moderner Kunst and it is published worldwide by Organa, New York. It was funded by the Austrian government. To redraw these manifold traces of lost history is the objective of the CD-ROM.
Combining more than 2.000 image and 5 hours of spoken text, Visionaries in Exile offers an encyclopedic view of this fascinating topic, from its main elements right down to detailed facts. A simple search systems allows the user to move through the programme rapidly. Hyperlinks connect images from international art and politics, video and sound recordings, and excerpts from rare books, imparting a multi-layered perspective on the forces that shaped the lives and works of these architects.
Tour Schedule
Columbia University
School of Architecture
Arthur Ross Architecture Gallery, Buell Hall
NY 10027 New York N.Y.
June 4th 1996 – June28th 1996
Lecture:
Otto Kapfinger, Architekturzentrum Wien
Monday, Juni 3rd 1996
Roger Williams University School of Architecture
Exhibition Gallery
RI 02809 Bristol R.I.
September 4th 1996 – September 25th 1996
The Chicago Athenaeum Museum of Architecture and Design
6 North Michigan Avenue
IL 60603 Chicago I.L.
November 5th 1996 – January 12th 1997
Lecture:
Otto Kapfinger, Architekturzentrum Wien
Tuesday, November 5th 1996
University of Miami
School of Architecture 1223 Dickinson Drive
FL 33146 Coral Gables F.L.
January 16th 1997 – February 21st 1997
Lectures:
Dr.Matthias Boeckl, Hochschule für Angewandte Kunst, Wien
Thursday, January 23rd1997
Wolfsonian Institute
Tuesday, January 28th 1997
School of Architecture
Washington University
Saint Louis M.O.
March 7th 1997 – April 7th1997
Kansas State University
Manhattan K.S.
April 15th 1997- May 15th1997
University of Austin
Austin T.X.
September 1st 1997 – September 25th 1997
Louisiana Technical University
Rustin L.A.
October 1st – October 25th 1997
The University of Illinois
Champaign I.L.
November 10th – December 21st 1997
Lecture:
Adolph Stiller, Architekturzentrum Wien
Monday, November 10th 1997
University of Houston
Houston T.X.
January 15th – February 15th 1998
University of Utah
Salt Lake City U.T.
February 26th – March 26th 1998
For further information regarding the US-tour please contact:
Austrian Cultural Institute
Krista Lewis
950 Third Street 20th Floor
NY 10022 New York N.Y.
USA
Tel 001 212 759 51 65
Fax 001 212 319 96 36
E-Mail:
desk@aci.org