Panel Discussion
virtual dschungle 2
Continual Forms – Networked Building
Wed 23.06.2004, 19:00-21:00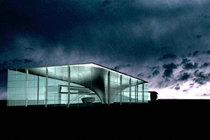 Computer design has the aura of great freedom. The reverse side of this freedom is a certain element of randomness. As an algorithmic tool, the mathematics of which do not have to be understood, makes it possible to draw complex forms in space quickly. So seamless spatial constructs arise in this digital space with no connections and no physical material presence.
The feasibility of building such a form usually only becomes an issue relatively late in the design phase. Many of the blob projects completed to date bear witness to this problem and have been discussed widely in this context.
Issues are to be raised and addressed in a kind of laboratory discussion: geometry and construction, material and media, communication and networking, function and sustainability.
The Panel:
Hermann Eisenköck, architecture consultant
Collaboration/realisation by BMW Munich with Coop Himmelb(l)au. Completion of Kunsthaus Graz, 2003.
Najjar und Najjar, Architekten
Semperit F&E, aluminium on concrete skeleton, 2000.
Klaus Bollinger, Bollinger+Grohmann, Frankfurt/Vienna
Load-bearing construction, BMW Munich by Coop Himmelb(l)au. Load-bearing construction, Kunsthaus Graz
Wolfgang Fiel, architect
Main focus on physical and digital model-based design
Georg Franck-Oberaspach, professor of computer-aided architecture methods
Software for the design and collaboration, perspectives for the future and the necessity of their use
Moderated by: Oliver Schürer
Concept: Oliver Schürer