Accompanying Programme
VinziRast in the Container — an encounter with homelessness
Mon 16.06.2014 – Sun 22.06.2014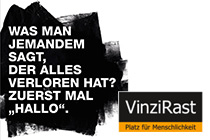 Three Austrian architecture faculties with Design-Build projects have been invited to plan activities for the Az W courtyard to accompany the exhibition. From 2 to 29 June 2014 the African Duka (Swahili for shop) — built, furnished and painted by visitors to the Az W — is being run by the imaran and VinziRast associations.
VinziRast in the Az W Container — an encounter with homelessness
From 16 to 29 June 2014, daily from 10am to 5pm, the Duka is being run by the Vinzenzgemeinschaft St. Stephan, who run the VinziRast shelters in Vienna. Their presentation shows the diversity of concerns addressed and services provided by the VinziRast facilities, and the association's spirit:
> VinziRast — emergency shelter
> VinziRast-CortiHaus — supervised accommodation
> VinziRast-Wohngemeinschaft — communal accommodation for sufferers of alcohol abuse
> VinziRast-mittendrin — students live, learn and work with people who have been homeless
The core idea for the use of the space is to create a place of encounter with homeless people and their various ways of living. A supplementary programme presents the broad spectrum of activities and services provided by the VinziRast facilities. Visitors should participate, contributing messages (for postcards and posters) on the subject of homelessness. The VinziRast-Mittendrin workspaces are represented with their opportunities for work, offering to do small repair jobs (clothes, bicycles, furniture) in return for donations. Writing and painting workshops are also being held. A daily fixture at 5pm is the Speakers Corner, with lectures, live music by residents of VinziRast, and readings. The writing and painting workshop present their results. The pleasure of an encounter is key.
Our thanks to the following companies for their support:
ADLER Lacke
Josef Moser Ges.m.b.H. & CoKG
PERI Ges.m.b.H.
Tooltechnic Systems GmbH Markenvertrieb Festool
WienCont Container Terminal Ges.m.b.H.
Würth Handelsges.m.b.H.