Panel Discussion
Viennese Ground
Panel discussion
Wed 23.09.2015, 19:00-21:00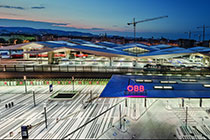 An event within the context of the exhibition "One Room for Five. Twenty Architectural Years"
Panel discussion with:
Dieter Henke, architect
Rüdiger Lainer, architect
Marta Schreieck, architect
Walter Stelzhammer, architect
Hannes Swoboda, former executive city councillor for urban planning and development
Semir Zubcevic, architect
Chaired by: Dietmar Steiner, director Az W
The panel discussion with the protagonists of the exhibition "One Room for Five" reviews urban development in Vienna over the last 20 years and showcases the changes that have taken placein the areas of architecture and politics. With their projects these five architects have helped shape the city and in the process have had to constantly adapt their methods and architectural position to the changes in the circumstances of production. The discussion chaired by Dietmar Steiner will be rounded of by Hannes Swoboda, who as former Executive City Councillor for Urban Planning and Development initiated numerous programmes and projects.
Admission is free of charge!