Lecture, presentation, opening
Vienna Rossa: The Magic Mountain of Austro-Marx­ism (Part 2)
Part of Happy Birthday Karl Marx! Collection with a View #4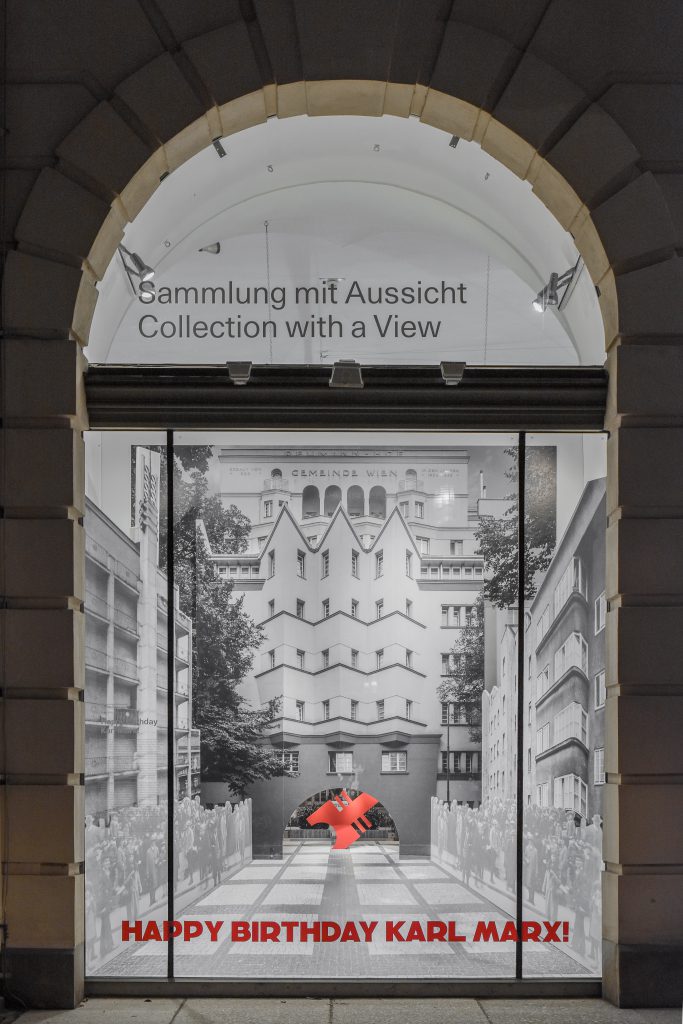 The Red Vienna socio-political experiment began 100 years ago. A new installation in a_show is an impressive reminder of the history of its reception, from Manfredo Tafuri to Hans Hollein.
For his 1985 exhibition 'Traum and Wirklichkeit' (dream and reality) Hans Hollein installed an iconic embodiment of the Karl Marx Hof on the roof of the Künstlerhaus. The installation in the permanent exhibition at the Az W references this, and provides support for discourse-critical works on Manfredo Tafuri, undertaken by a group of students at the Institute for Art and Architecture at the Academy of Fine Arts Vienna. The students explore the myths behind Tafuri's study Vienna Rossa in depth, along with the history of its reception and its significance in times of increased criticism of capitalism.
Back in the 1970s Manfredo Tafuri travelled to Vienna to undertake the first extensive investigation into the social housing of Red Vienna from a perspective of architectural history, and harshly criticises the ideology.
A cooperation by the Az W with the Academy of Fine Arts Vienna.
Introduction: Angelika Schnell, Prof. of Architecture theory, Academy of Fine Arts Vienna
Marxists: Fabian Buxhofer, Iklim Dogan, Silvester Kreil, Adrian Man, Flavia Mazzanti, Naomi Mittempergher, Luka Šola
The collage in the window to the yard of the Az W was made possible thanks to the kind support of: Pez Hejduk and Lilli Bauer, Waschsalon Karl-Marx-Hof.