Symposium
urbanRESET
a cooperation by the faculty for urban development at Vienna University of Technology with the Az W
Wed 30.11.2011, 19:00-21:00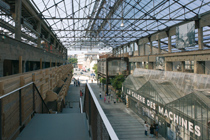 In recent decades an analysis of the architectural heritage of the industrial era has increasingly become a task for planners: in the course of structural change, industrial sites and residential areas have developed into empty spaces that cannot be neglected because of their dimensions within the urban fabric. Innovative new interpretations of such relics are to be observed throughout Europe — for instance in the case of the Toni grounds in Zurich, or the Île de Nantes. The book urbanRESET contains a collection of examples of this category of urban work from all over Europe: theoretical interviews with key proponents and introductions to projects show how local reactivations can have a sustainable impact. The common basis of these works is condensed to provide methodical conclusions for an urban practise for the future.
programme:
7pm Dietmar Steiner, director of the Az W, welcome address
Christoph Luchsinger, professor of urban development and design, Vienna University of Technology, introductory address
7.30pm Angelus Eisinger, HCU Hamburg, presentation of urbanRESET
8pm panel discussion with:
Maria Auböck, landscape architect
Sonja Beeck, architect
Angelus Eisinger, HCU Hamburg
Rudolf Mutz, CEO of Marina Wien GmbH
Jörg Seifert, HCU Hamburg
Silja Tillner, architect
Maria Vassilakou, Executive City Councillor for Urban Planning, Traffic & Transport, Climate Protection, Energy and Public Participation
moderated by Angelika Psenner, Institute of Urban Design, Vienna University of Technology
urbanRESET workshop
Thu 01.12.2011, from 10am – 1pm, workshop, Vienna University of Technology, seminar room 325/1, Freihausgebäude Wiedner Hauptstrasse 8, Turm B, yellow sector, level 4.
The symposium is supplemented by a workshop held at Vienna University of Technology, under the supervision of the urban development faculty and Prof. Christoph Luchsinger, to deepen issues raised on the preceding day in an open discussion. Representatives of the city, the editors of urbanRESET, teaching staff and students from the architecture faculty as well as external critics and interested parties are to be invited to join the panel.
max. 25 participants
reservations to luchsinger@tuwien.ac.at
more information available at www.stb.tuwien.ac.at
Free admission!
Photos taken during the symposium "urbanRESET", a cooperation by the faculty for urban development at Vienna University of Technology with the Az W, November 30, 2011.