sundays
(Un) Familiar: On the Liesing (2)
tour 59
Sun 21.05.2000, 13:45-18:00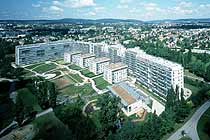 Housing project Osramgründe
Architect: Martin Treberspurg, Eric Steiner, Atelier 4
A tour through the low-energy apartment complex. Air, light and sun have a lot to offer.
Housing project "In der Wiesen Nord"
Architects: Lautner – Scheifinger – Szedenik – Schindler
With an architectonic stategy of retreat and encounter the architects have created leeway for co-existence. Global translation.
Meeting: 1:45 P.M. at the Architekturzentrum Wien
Departure: 2:00 P.M., Return: 6:00 P.M.
With the architects: Martin Treberspurg, Peter Scheifinger and Experten
Tour Guide: Michael Diem
Tickets: EUR 10.95 (ATS 150.-) / EUR 7.30 (ATS 100.-)