Lecture
Tuesday Architecture 03
Continuities
Tue 29.06.1999, 19:00-21:00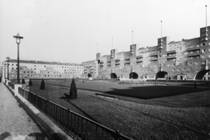 lectures by: Klaus Steiner, Irene Nierhaus, Roland Rainer, Siegfried Mattl
Tuesday Architecture 03
Theme: Continuities
Across political rifts the centrally employed tenured civil servants functioned as relay station between political ideas and their tectonic realization, their role as "employers" of "free-lance" architects, aside from their own planning, meriting particular mention..
Questions and theories: Klaus Steiner
Experts: Klaus Steiner, Irene Nierhaus, Roland Rainer, Siegfried Mattl
This years main theme:
(A)way with Modernism ?
With four large retrospectives – Rudolf Schwarz, Hans Steineder, Erich Leischner, and Oswald Haerdtl – Architekturzentrum Wien is, for the first time, highlighting overlappings, continuities, and fractures within Austrian architectural history of the 20th century.
The personal exhibitions will be accompanied by a series of events on scientific reflection – the Tuesday Architecture.