Accompanying Programme
Tuarag in a Container
Mon 02.06.2014 – Sun 15.06.2014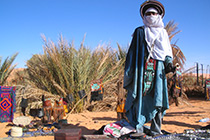 Three Austrian architecture faculties with Design-Build projects have been invited to plan activities for the Az W courtyard to accompany the exhibition.
From 2 to 29 June 2014 the African Duka (Swahili for shop) — built, furnished and painted by visitors to the Az W — is being run by the imaran and VinziRast associations.
Tuarag in a Container
From 2 to 15 June 2014, daily from 11am to 7pm, the Verein imaran, Association Autriche — Niger, is stocking and running the African shop, offering traditional and modern Tuareg silver jewellry, leather goods and other handcrafted items, West African batik fabrics and designer clothes from batik fabrics, nomad blankets as well as assorted accessories for sale, to raise contributions. Funds raised will be used for projects by the Association for Tuareg Nomads in North Niger. A cosy lounge corner on the carpet invites visitors to linger for some Tuareg tea, and provides information about the association and tours of the Sahara.
Our thanks to the following companies for their support:
ADLER Lacke
Josef Moser Ges.m.b.H. & CoKG
PERI Ges.m.b.H.
Tooltechnic Systems GmbH Markenvertrieb Festool
WienCont Container Terminal Ges.m.b.H.
Würth Handelsges.m.b.H.