sundays
TRIEST, litorale, cittS, altepiano
tour 76
Fri 30.03.2001 – Sun 01.04.2001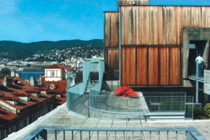 The excursion develops along two main routes in the city, the waterfront and the karst plain. An inspection of individual significant buildings and projects relevant in terms of urban development.
Porticciolo di S. Croce – architectural/ecological research project at the bottom of the sea | Promenade Barcola – local recreation site 1936 | Porto Vecchio urban development project for the area of the old harbour (masterplan: Manuel de Solá-Morales) | Carpark in the silos of the Stazione – adaptation of the historical industrial architecture (Gigetta Tamaro, Luciano Semerani) 1986-89 | Museo Revoltella – extension (Konzept: Carlo Scarpa) 1963-84 Risiera di San Sabba/Monumento Nazionale — concentration camp memorial/mega residential structure (Romano Boico) 1975 | Scuola Media di San Sabba (Renzo Agosto, Giorgio Grassi, Aldo Rossi, Francesco Tentori) 1968/69 | Rozzol Melara – mega residential structure (Celli/Tognon) 1968-83 | General Hospital (Tamaro/Semerani mit Celli/Tognon) 1965-83 | short breaks in the Caffès San Marco, Tommaseo, Flagshop Caffè Illy.
Meeting Point: Friday, March 30, 2001 at 04:45 P.M. at the main entrance of the MuseumsQuarter Vienna, Museumsplatz 1, A-1070 Vienna
Departure: 05:00 P.M.
Return: Sunday, April 01, 2001 at around 11:00 P.M.
Tour guides and concept:
For GANGART Simonetta Ferfoglia, Heinrich Pichler
Experts:
Marco Pozetto, Massimo Mucci, Gigetta Tamaro, Carlo Borghi
Ticket fee includes journey, 2x hotel + breakfast, 2x lunchbox, 2x lunch (drinks are not included)
Single room: EUR 334.30 (ATS 4.600.-) Double room: EUR 305.23 (ATS 4.200.-) per person (Hotel al Theatro)
Ticket reservations by March 20th, 2000 from: Bank Austria a/c: 686 125 626. Bank sorting code (BLZ): 12000. Don't forget to add your name!
Cancellations made after March 23rd, 2000 are subject to a fee of 50% of the ticket fee.