sundays
Triangel Realized
tour 79
Sun 06.05.2001, 13:45-18:00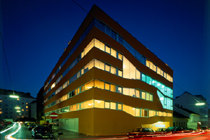 Housing development Reisingergasse
10th district, Reisingergasse 1 – 5
Architects: Ganahl Ifsits Larch.Architektur (Claudia K–nig), (this link leads to a site in german)
Housing estate and department store Perfektastraße
23rd district, Perfektastraße 40
Architect: Rudolf Prohazka (this link leads to a site in german)
Miss Sargfabrik
14th district; Missindorfstraße 10
BKK-3 Architects: Johann Winter, Franz Sumnitsch (this link leads to a site in german)
Two housing complexes, already visited in sundays 2000 as building sites are now up and running. Functional mix creates urbanity in the suburb behind the suspended glass wall and in the arcades of Perfektastraße. Various spatial configurations, buckled deck accesses, angled ramps and a multitude of possibilities for semi-public usage: library, communal kitchen and teleworking zones are what the ambitious architects of the Sargfabrik are offering the ambitious users.
New: Reisingergasse, building phase B, an elegant, elongated, seven-storey volume with four tracts arranged like the teeth of a comb, small green courtyards inside. Glazed deck accesses, roof terraces and loggias, gardens for tenants set in front: Good accommodation does not stop at the doors to the corridors.
Meeting Point: 01:45 P.M. at the main entrance of the MuseumsQuarter Vienna, Museumsplatz 1, A-1070 Vienna
Departure: 02:00 P.M., return: 06:00 P.M.
Architects:
Walter Ifsits, Rudolf Prohazka, BKK-3
Tour Guide:
Michael Guide
Tickets: EUR 10.95 (ATS 150.-) / EUR 7.30 (ATS 100.-)