Lecture
Tools — Talk 3
How to make a community as well as the space for it
Wed 06.07.2011, 19:00-21:00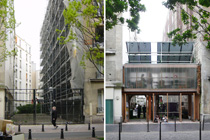 A cooperation by Soho in Ottakring with the Az W
A new approach to architecture and urban planning cannot be initiated by centralised structures and state-run institutions. Doina Petrescu and Constantin Petcou examine the significance of "other spaces", the temporary appropriation and use of "left over" spaces and urban gaps, and places of relative freedom where rules and conventions can still be redefined. Their projects engage with self-organisation, growing new networks and catalytic processes, resistence to profit-orientated developments, recycling and environmentally friendly buildings, and the collective production of knowledge.
7pm lecture: Doina Petrescu and Constantin Petcou, atelier d'architecture autogérée (aaa)
8pm talk: Andrea Seidling, curator (of the exhibition 'Platz da! European Urban Public Space') and Doina Petrescu and Constantin Petcou
Moderated by Beatrix Zobl, artist
(held in English)
Admission free!