Exhibition
The Unknown Loos: Walter
Paraíso Latinoamericano
Thu 02.03.2006 – Mon 22.05.2006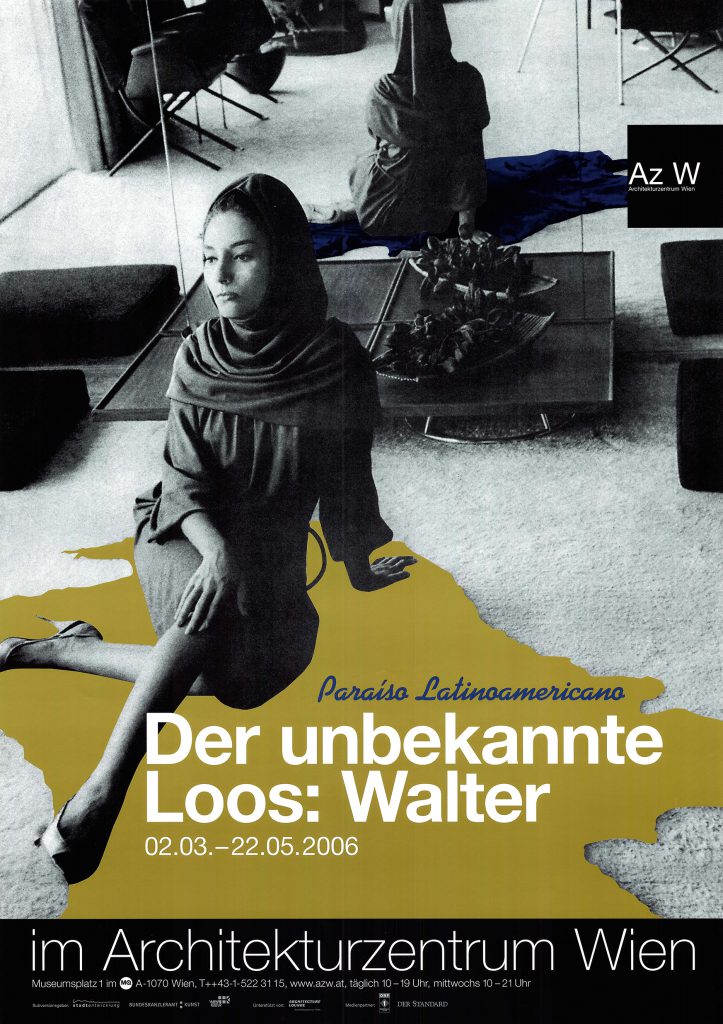 Whenever somebody talks about Loos in an architecture context the immediate presumption is that they are talking about Adolf. However this exhibition is dedicated to one of his younger colleagues and namesake: Walter Loos (1905 – 1974), whose estate was entrusted to the Az W in 2003. Walter Loos was also an architect and a furniture designer, a Bohemian… and emigrated.
Although this Loos' oeuvre as an architect is not very extensive his buildings in Austria and Argentina are among the most interesting of their time. He has been forgotten, among other reasons, because he did not complete any public buildings or publish any theoretical writings, and from 1940 onwards he moved off the Austrian radar, so to speak, to distant Argentina.
Born in Vienna in 1905, Loos studied at the Kunstgewerbeschule and the Technische Hochschule in Vienna under, among others, Josef Frank and Josef Hoffmann. Like Frank, he found his orientation in the formal canon of modernist architecture without being dogmatic. His buildings are distinguished by their elegance, lightness and comfort.
Loos and Fridl Steininger, a very successful fashion designer who later became his wife, emigrate to The Argentine via England and the USA. While in exile Walter Loos established a reputation primarily as a furniture designer. The couple's work is closely connected – by a shared clientele, but also because they both strived to achieve a symbiosis of modernity coupled with tradition.
"It's worth taking a careful look at his houses, fittings and interiors, his furniture and design objects. It tells more about the first dissipated and then decapitated avant-garde than some of the commentaries written in their lifetime." Friedrich Achleitner
The exhibition has a focus on the affects caused by the rift of emigration on the life and work of Walter Loos, and is divided into two main chronological/geographic islands: before and after his emigration; Vienna (and Germany) and Buenos Aires. The presentation covers plans, photographs, sketches, building projects, fashion and furniture. The broad thematic spectrum (architecture and furniture design, fashion, emigration, the social and cultural history of The Argentine) provides an approach that is not just based on an interest in architecture history.
PUBLICATION
A publication is being published to accompany the exhibition with 128 pages, about 200 illustrations. Authors: Friedrich Achleitner, Oliver Kühschelm, Sonja Pisarik. Published by the Architekturzentrum Wien, Verlag Verlag Holzhausen.
Curator: Sonja Pisarik
Collaboration Exhibition and Publication – Ute Waditschatka
Exhibition Design – ARTEC Architekten
Graphic Design – Gabriele Lenz
Paraíso Latinoamericano
The exhibition 'The Unknown Loos: Walter' at the Architekturzentrum Wien is accompanied by a survey compiled by Michael Bier of Austrians who went on to work as architects in the various South American states following their emigration.
Sponsors:
Geschäftsgruppe Stadtentwicklung und Verkehr
Bundeskanzleramt Sektion Kunst
Wien Kultur
Bundesministerium für Bildung, Wissenschaft und Kultur
A few views of the exhibition 'The Unknown Loos: Walter' combined with the exhibition 'Paraíso Latinoamericano' in the Az W´s Old Hall.