Lecture & Discussion:
The Power of (Architectural) Photography
Brief lectures and a panel discussion
Wed 13.04.2016, 19:00-21:00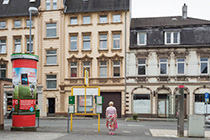 "Architectural photography not only depicts the cultural, economic and political contexts, it actively shapes them at the same time. As Philip Ursprung demonstrates, architectural photography, while it becomes an accessory to architectural history, also holds up a critical mirror to it", writes Angelika Fitz in the book, soon to be released, Architectural Photography and Its Uses. A panel discussion highlights ties between the book and the subject of the exhibition, and engages with the issue of the sociocritical responsibility of photography.
Guest Speakers:
Peter Bialobrzeski, Photographer
Angelika Fitz, Co-Editor of Architectural Photography and Its Uses
Hertha Hurnaus, Architectural photographer
Iris Ranzinger, Margherita Spiluttini Photo Archive / Az W
Hilde Strobl, Curator of the exhibition
Moderated by Maik Novotny, Architecture journalist