Exhibition
The Museum Quarter Vienna
... and other exciting stories
Wed 15.09.1999 – Tue 26.10.1999
Daily 10:00 AM - 07:00 PM, Wednesdays until 09:00 PM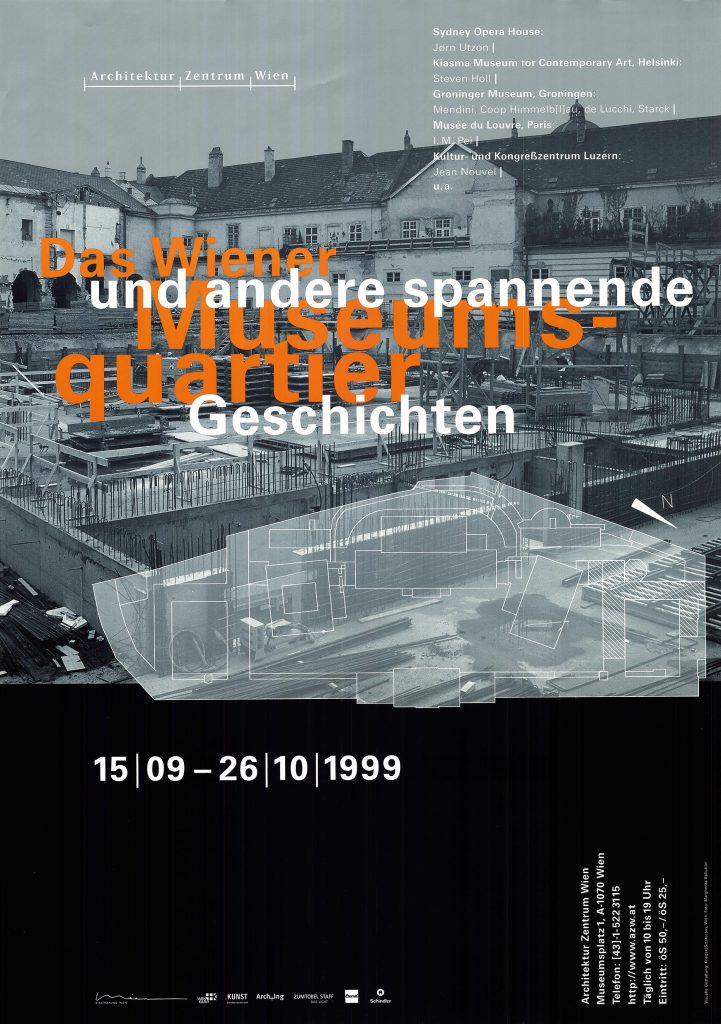 The Architekturzentrum Wien will, for the frist time, present the overall project of the Museum Quarter Vienna, which is now under construction, to the public. The competition, the planning phase, the political discussions, accompanied and guided by the media, permit the visitor of this exhibition to immerse into a piece of cultural history.
The exhibition shall focus not only on the future architecture of the Museumsquartier but also on the relationship between politics, society, and the media. The exhibition therefore compares large cultural buildings on an international level and highlights the correlation between problems and responsibilities which in the end lead to the realization of the project.
Opening
Wolfgang Waldner, General manager of the Museum Quarter Development and Operating Co. Ltd.
Laurids Ortner, Architect of the Museum Quartier Vienna
Opening hours:
Daily 10:00 a.m. – 7:00 p.m.
Guided tours:
Saturday, September 18, 1999, 3:00 p.m.
Saturday, October 02, 1999, 3:00 p.m.
Saturday, October 16, 1999, 3:00 p.m.
Tuesday Architecture:
05 – Tuesday, September 21, 1999, 7:00 p.m.
06 – Tuesday, October 05, 1999, 7:00 p.m.
In cooperation with Museum quarter Vienna
Supported by:
Stadtplanung Wien
Wien Kultur
Kunst Bundeskanzleramt
Zumtobel Staff
Arch+Ing W, NÖ, B
Eternit
Schindler AG
… and other exciting stories
Links
Sydney Opera House
The official website of the Sydney Opera House
Great Buildings Online – The Sydney Opera
Sydney Morning Herald: flats ruin Opera House site
Was the Sydney Opera House designed for its location?
Sydney's Opera House–Not a World Heritage Item?
Sydney's Opera at The Sourcemag.com
Sydney's Opera at rQTrack/BBZine #1
Kiasma Museum for Contemporary Art, Helsinki
The official website of the Kiasma Museum for Contemporary Art
Kiasma – kontroversy and kudos
The website of the architect – Stephen Holl
An article on the KIASMA in Metropolis Mag
Stephen Holl at Skew Arch
Official website of the city of Helsinki
Helsinki 2000
Musée du Louvre, Paris
Official website of the Musée du Louvre
Great Buildings Online – Le Louvre
Paris Architecture On Line: Le Louvre
Pictures of the entrance to the Louvre
I.M. Pei on the website of the PRITZKER-prize
"The Washington Post" about the Louvre
A very comprehensive worklist of I.M. Peis's office: Pei Cobb Freed & Partners
Official website of the city of Paris
Paris Museums Online
Groninger Museum, Groningen
Official website of the Groninger Museum
The website of the architect – Alessandro Mendini
Official website of the city of Groningen
Digital city Groningen
Culture and Congress Centre Lucerne
Official website of the Culture and Congress Centre Lucerne
Zur Eröffnung: Das KKL im "TagesAnzeiger", Zürich
Interview mit Jean Nouvel zum KKL
Jungle World 36: Origami aus Stahl
Das KKL am 21. 08. 1998 in "Die Welt"
Das KKL am 21. 08. 1998 im "Tages Anzeiger", Zürich
Das KKL am 08. 08. 1998 in "Die Welt"
Jean Nouvel und Thomas Held
Official website of the city of Lucerne
Museum Quarter Vienna – Links
Museum Quarter Vienna
The official website of the Museum Quarter Vienna
all the following links are in german, since these are all austrian, swiss and german newspapers
Search engine of the Austrian Parliament on the "Museum Quarter Vienna"
The Museum Quarter Vienna on July 24, 1999 in the "Der Standard", Vienna
The Museum Quarter Vienna on July 14, 1999 in "Die Presse", Vienna
The Museum Quarter Vienna on July 14, 1999 in "Der Standard", Vienna
The Museum Quarter Vienna on March 05, 1999 in "Der Standard", Vienna
The Museum Quarter Vienna on December 12, 1998 in "Der Standard", Vienna
The Museum Quarter Vienna on December 09, 1997 in "Die Welt", Berlin
The Museum Quarter Vienna on December 06, 1997 in "Spectrum", Vienna
The Museum Quarter Vienna on November 28, 1997 in "Die Presse", Vienna
The Museum Quarter Vienna on November 01, 1997 in "Der Standard", Vienna
The Museum Quarter Vienna on February 27, 1997 in "Die Presse", Vienna
Official website of the Republic of Austria
Official website of the city of vienna