Long Night of the Museums at the Az W
The Long Night of the Museums at the Az W 2008
Sat 04.10.2008, 18:00-01:00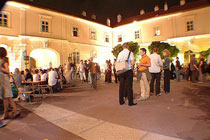 This year once again the Az W is taking part in the "Long Night of the Museums", a museum event organised by ORF that takes place throughout Austria. Night birds with an interest in building and architecture will be catered for again this year.
WORKSHOP FOR KIDS
06.00pm-08.00pm
"Adventure City"
The Architekturzentrum Wien is becoming a mini city. Plan and build your own bridges, buildings and roads…!
GUIDED TOURS
08.00pm and 10.00pm
Guided tours through the exhibition 'a_show. Austrian Architecture in the 20th and 21st Centuries'.