Presentation
The Krier Era in Vienna
An evening With Rob Krier
Wed 25.02.2009, 19:00-21:00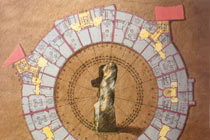 (in German)
The Luxemburg architect and sculptor Robert Krier (born in 1938), professor at Vienna University of Technology since 1976, brought a romantic variation of the postmodern discussion on urban development to Vienna with his designs based on striking imagery, studies and publications. Krier has influenced a whole generation of architecture students without resorting to the creation of anything approaching a formal school. What he taught, the experiences gleaned by his former students and the 'lessons' they learned in their time with him are the topic of this evening. A brief talk by the architect, who currently lives in Berlin, is followed by a panel discussion with his former fellow campaigners from his time in Vienna to bring a long insufficiently appraised epoch in the history of architecture into the present. May contain traces of nostalgia.
Introduction: Dietmar Steiner, director of the Az W
Lecture: Rob Krier, architect and sculptor
Panel guests
Rob Krier, architect and sculptor
Markus Geiswinkler, architect
Johann Kräftner, director of the Liechtenstein Museum
Hermann & Valentiny, architects
Léon Krier, architect, Rob Krier's younger brother
Admission free!