Panel Discussion
The Crisis in the Box
Panel Discussion to Accompany the Exhibition "Constructive Provocation"
Wed 06.07.2005, 19:00-21:00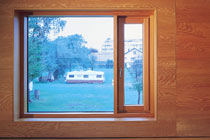 It appears undeniable that since the 1960s an architectural phenomenon has emerged between the Bodensee and Arlberg. A whole region of Austria has successfully been redefining the term 'architectural culture' in a continual development.
The same region is presenting an interdisciplinary approach and very high quality in several categories, always keeping up with the current state of the art. It is not for no reason that Vorarlberg has a reputation as a model province in architectural terms as the consequence has been a broadly based architecture tourist industry.
The praises sung about the broad effects and innovative Vorarlberg culture of building are, however, also confronting hefty criticism – and this is not just coming from elsewhere.
The key factors here being the purely product-orientated quality of the buildings and sprawl in the countryside by single-family houses with no regard for the overall structure or space planning considerations. So too, there is the indictment that this wonderland of architecture has failed to place itself within an international theoretical discourse.
Native Vorarlbergers, Vorarlbergers in exile and non-Voralbergers discuss whether there really is a 'Crisis in the Box', and what justification there is for one.
The Panel
Marlies Breuss, architect
Bettina Götz or Richard Manahl, architect
Edelbert Köb, Director mumok slw Museum Moderner Kunst, formerly of KUB Bregenz
Much Untertrifaller, architect
Moderated by: Wojciech Czaja, architecture journalist