sundays
The Constructive Provocations Tour
Guided tour accompanying the exhibition
Sun 24.07.2005, 14:15-19:00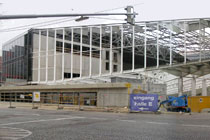 The Constructive Provocations Tour looks at three exceptional buildings to show how the Vorarlberg architecture scene is moving into the most prominent locations in Vienna in terms of architecture history as well as their significance for traffic and transport planning.
* Flughafen Wien (Vienna Airport) / Baumschlager Eberle, 2005. Office tour and possibly also of the construction site
* Stadthalle: Halle F / Dietrich | Untertrifaller, 2005. Guided tour by Much Untertrifaller
* Albertina and Filmmuseum / Steinmayr – Mascher, 2002
Followed by a visit to the Filmmuseum, refreshments will be served in the museum bar.