Az W by Moonlight
The city off the drafting table
Architektur.Film.Sommer – 12.08.
Wed 12.08.2015, 20:00-23:59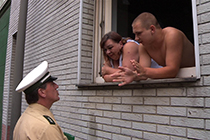 architecture film festival in the Az W courtyard
in the event of bad weather, at the Az W Podium
a cooperation by the Az W with wonderland — platform for european architecture, frame[o]ut and the MuseumsQuartier Wien
Special guests: Marleen Leitner, Michael Schitnig und Sándor Guba
Der Weltbaumeister
AT 2014, 8 mins, D: Marleen Leitner & Michael Schitnig, in German
Using hand-drawn transformations Der Weltbaumeister (The World Builder) explores change from a social and an architectural, utopian perspective. The arenas of activity, initially large in relation to their environment, are gradually shrinking and becoming increasingly anonymous. Hierarchic changes in architecture play a key role in this restaging of Bruno Taut's work, too. The animation not only engages with the "where do we come from — where are we going" question implicit to architecture, it also takes a clear position in regarding architecture as not only a spatial art but also a temporal art.
seestadt aspern D12
AT 2014, 5 mins, D: Sándor Guba
Summertime on the lake and a construction site. A concrete skeleton transforms into homes — 213 units encased by 8,000 square metres of wooden façade.
Berger+Parkkinen Architekten with querkraft architekten zt gmbh build in aspern Vienna's Urban Lakeside — a time-lapse documentary.
DE 2014, 99 mins, D: Ulrike Franke & Michael Loeken, in German
On the former site of a steelworks in Dortmund, Germany, a new city district has been under construction over many years. The centrepiece is an artificial lake, on the banks of which luxurious residential developments are going up. The people who live in the vicinity of the former-steelworks, and who worked there, cannot afford to live by the lake. Over five years pass: planners and local residents, individuals with vision, and sceptics become the winners and losers in so-called "social progress". A film about the transformation of the industrial society into a leisure society.
architecture film festival in the Az W courtyard