Exhibition
SYNWORLD – playwork:hyperspace
soft structures
Thu 27.05.1999 – Mon 31.05.1999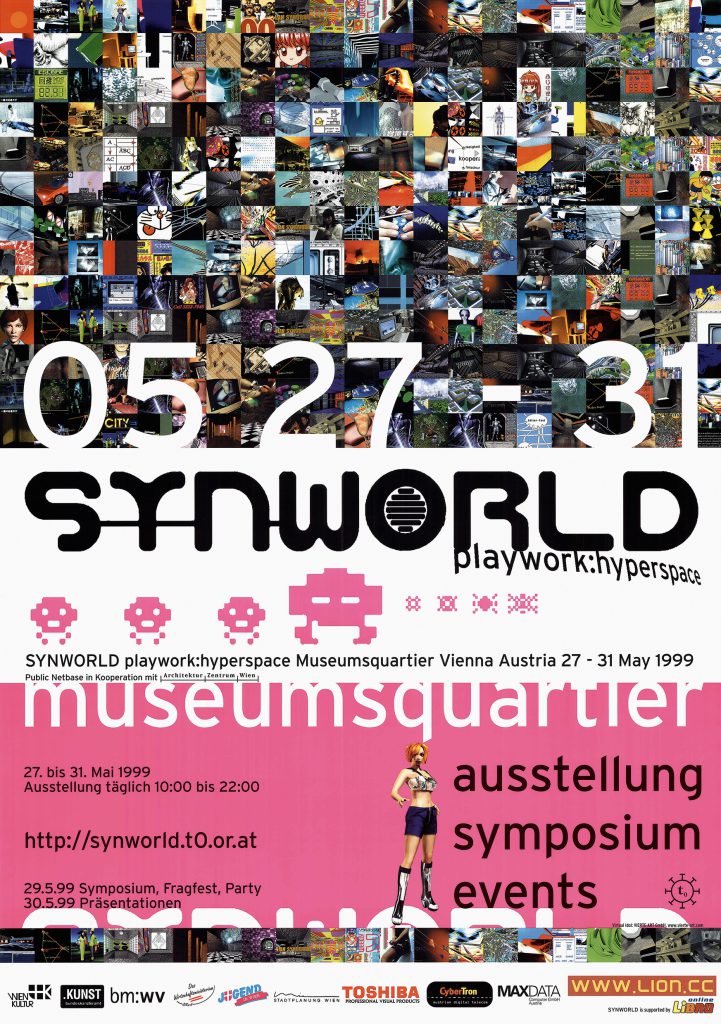 "It is always more interesting to make an appraisal of what the machine wants to do for us than to begin by asking what we want of the machine." (Greg Lynn)
"The very day, the shape of my buildings is determined by the computer is the day I bow out of architecture." (Peter Eisenman)
"Who's interested in "being human"? Only robots are!" (Lars Spuybroek / NOX)
A new generation is emerging in architecture, drawing attention upon itself with digital designs. For the first time, architects today are designing complex non-Euclidian shapes that would be impossible to calculate or put into practice without the support of 3D software. Some of these architects employ computers to calculate complex, dynamic and spatial systems as known in e.g. weather forecasts, integral traffic control systems etc. Others again produce designs for ìvariableî or interactive buildings faced in liquid crystals that work like huge monitors, transmitting data of every kind.
For its proponents, the new "cyberarchitecture" is no less than a social and spatial revolution, an opportunity to be liberated from the restricted buildings of the past. Architects following radical lines of thought deliberately praise the computer as a destabilising power which will abolish the determining parameters which have been around in architecture for centuries: form and function, interior and exterior, surface and structure, and most paramount, the architectís role itself. The quest for the "right" form yields to the quest for information and its transformation. The use of computers and digital media detaches itself from initial thinking in terms of tools, influencing the content of the conception of space and architecture instead.
The question that remains to be answered is whether architecture will remain a profession solidly cemented into the sclerotic reality of physical facts – floor and walls, clients and predetermined financial regimes. Can or will it adapt to social and technological change?
The Architekturzentrum Wien contribution in the framework of the exhibition SYNWORLD shall attempt to show how far the new theories and design processes have progressed to date.
Projects and buildings by Asymptote (USA), Karl S. Chu (USA), Greg Lynn (USA), Kas Oosterhuis (NL), NOX/ Lars Spuybroek (NL) and ETH Zurich, chair for CAAD (CH), of the Darmstadt University of Technology, chair for CAD in architecture (D) and the Ars Electronica Futurelab (A) will be presented.
SYNWORLD – playwork:hyperspace
SYNWORLD is an interactive exhibition which invites the public to discover, explore and play with the newest virtual game worlds and simulations in electronic entertainment, industry, science and art.
SYNWORLD showcases 3D products from well-known game developers, and applications and interactive visual representations from architecture, medicine and industry.
SYNWORLD offers a comprehensive program with lectures, installations, multimedia presentations, games stations, and a lounge. The works of international artists examine issues of technological systems within artistic contexts.
The latest developments in hypermedia worlds and computer-aided simulations confront us with divergent future scenarios: Will inventive design in simulations lead to new worlds of experience? Will simulated cities as dynamic models of urban planning allow for new forms of human interaction?
What is the appeal of computer and video games? Can the fascination with computer games be applied to learning and work environments?
The multidimensional representation of complex structures and content is of central importance to the world of tomorrow. Increasing data capacities of digital applications require new interfaces for spatial navigation within complex environments and new approaches to information architecture.
Educational games and productive work as games will acquire increased importance in the media hybrids of the future. Artists are increasingly occupied with the use of hypermedia narrative structures, the design of participatory virtual environments, the technologies of complex systems and games.
SYNWORLD presents an exhibition featuring the works of important artists and architects working in these fields, such as Ulrike Gabriel (D), Knowbotic Research (D), Keisuke Oki (JP), Calin Dan (RO/NL), Anne-Marie Schleiner (USA), Asymptote (USA), Karl S. Chu (USA), ETH Zürich CAAD (CH), Greg Lynn (USA), Kas Oosterhuis (NL), Lars Spuybroek (NL) and many more.
On Saturday, May 29 1999, from 2 p.m. till 8:00 p.m., SYNWORLD's lecture series invites participants from industry, research and the arts to discuss the implications of virtual systems of representation and to hypothesize future scenarios.