Symposium
SYMPOSIUM: aspern INTERNATIONAL. Presentation of the Designs
Sat 20.06.2015, 10:00-17:15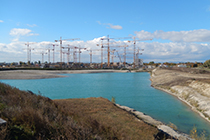 A cooperation by the Architekturzentrum Wien with Wien 3420 aspern development AG for the Vienna Biennale 2015: Ideas for Change
An experiment that signals a shift towards participation, co-determination and a democratisation of the city: each architects office presents its project at a public symposium, facing questions and comments from the jury, their colleagues and an interested audience. These discussions ultimately form the basis for the jury's decision.
Language of the symposium is English.
PROGRAMME
10am
Dietmar Steiner, director Az W: welcome address
10.15am
Claudia Nutz, managing board member of the Wien 3420 aspern development AG: welcome address
10.30am
Siv Helene Stangeland/Reinhard Kropf, Helen & Hard (NO)
11.15am
Oliver Thill, Atelier Kempe Thill Architects and Planners (NL)
12am Lunch Break
1pm
Anne Lacaton/Jean-Philippe Vassal, Lacaton & Vassal Architectes (FR)
1.45pm
Vasa J. Perovic/Matija Bevk, Bevk Perovic arhitekti (SI)
2.30pm Break
3pm
Cino Zucchi, Cino Zucchi Architetti (IT)
3.45pm
Thomas von Ballmoos, Von Ballmoos Krucker Architekten (CH)
4.30pm
Andreas Hild, Hild und K Architekten (DE)
5.15pm End of symposium
Moderation: Karoline Mayer, Az W
The order of the presentations was drawn by lot. Each presentation will last ca. 30 minutes followed by 15 minutes of questions from the jury and the audience.
Details subject to change.
PARTICIPATING ARCHITECTS OFFICES:
Atelier Kempe Thill Architects and Planners (NL)
Bevk Perovic Arhitekti (SLO)
Cino Zucchi Architetti (I)
Helen & Hard (NO)
Hild und K Architekten (DE)
Lacaton & Vassal Architectes (FRA)
von Ballmoos Krucker Architekten (CH)
This project is supported by Vienna's City Department for Housing, Housing Construction, and Urban Renewal / Municipal Department 50, Housing Research Division and International Relations