Symposium
Symposium: Architectures for a Better World
Fri 14.03.2014, 10:00-17:30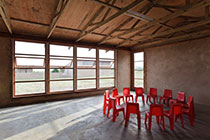 Within the framework of the exhibition opening an all-day international symposium will be held in the Az W, which poses questions about the social responsibility of architecture:
What solutions can architecture today offer those sectors of the global population that can themselves never be clients?
How does architecture, a discipline positioned between artistic, economic and ecological aspirations and demands, define its
social relevance?
What contribution can architecture make to the design of a better world?
In three thematic blocks 'Architecture is Material', 'Architecture is Collaboration' and 'Architecture is Shelter' protagonists from 'Think Global, Build Social!' present their projects and report on their experiences.
Speakers:
Andrés Bäppler Ramirez, Escuela para la Vida (CO)
Frédéric Druot, Frédéric Druot Architecture (FR)
Peter Fattinger, design.build Studio, TU Vienna (A)
Alexander Hagner, gaupenraub +/- (D/A)
Anna Heringer, Architect (D/A)
Line Ramstad, Gyaw Gyaw (NO)
Martin Rauch, Lehm Ton Erde Baukunst (A)
Jenni Reuter, Hollmén Reuter Sandman Architects (FI)
Elias Rubin, Project Manager s2arch (A)
Moderated by: Anh-Linh Ngo, Editor ARCH+ (D)
Programme:
9:00 Registration
10:00 Dietmar Steiner, Welcome
10:15 Anh-Linh Ngo, Introduction
Global tätig / Architecture is Material
10:30 Martin Rauch, New Perspectives in Building with Earth
11:00 Andrés Bäppler Ramirez, The New Gold of the Andes – Structural Building with Bamboo in Columbia
11:30 Anna Heringer, Handmade Architecture or Sustainability as Synonym for Beauty
12:00 Lunch break
Lokal integriert / Architecture is Collaboration
13:00 Jenni Reuter, Beyond Design
13:30 Peter Fattinger, Learning by Acting: design.build Studio at the TU Vienna
14:00 Elias Rubin, Architecture and Material – Building as an Integrative Process
14:30 Break
Sozial engagiert / Architecture is Shelter
15:00 Alexander Hagner, Nearby Projects
15:30 Frédéric Druot, What and who is already there?
16:00 Line Ramstad, Sustainable Architecture among Karen Migrants and Refugees on the Border between Thailand and Burma
16:30 Discussion with:
Andrés Bäppler Ramirez, Frédéric Druot, Peter Fattinger, Alexander Hagner, Anna Heringer, Line Ramstad,
Martin Rauch, Jenni Reuter, Elias Rubin
Moderated by: Anh-Linh Ngo
The Symposium will be held in German and English.
Subject to alteration
Current information: www.azw.at/symposium
Reservation and Tickets:
Tickets for the symposium can be purchased directly at the Az W Shop (Mo-Sun, 10am-7pm). Only fully paid tickets will reserve you a seat.
Reductions are only available on presentation of the appropriate pass for: students, schoolchildren, senior citizens, national servicemen, apprentices, people with disabilities.
Organisation Symposium:
Karoline Mayer, Az W (mayer@azw.at, +43 1 522 31 15-28)