sundays
sundays 97
Crime Scene Vienna: Crime Does Not Pay!
Sun 28.04.2002, 13:45-18:00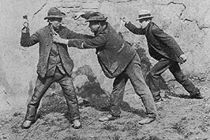 Karl Marx was wrong when he wrote that crime certainly pays. According to his thesis, the criminal does not just produce the crime itself but also all of the measures directed against it. The fear evoked, whether real or imagined, is illustrated in numerous preventative architectural and urban interventions: fortified complexes from the outside, control architecture on the inside.
sundays investigates the scene of the crime:
Ringstrasse / Rossauerkaserne / Milleniums-Tower / Reichsbrücke / Spinnerin am Kreuz / Per-Albin-Hansson-Siedlung-West / St.Johann-Park / Gürtel / Westbahnhof
Photo: Hermann Drawe, 1904, knife fight. From the series of lectures: 'Wiener Quartiere Des Elends Und Verbrechens' (Viennese Quarters of Hardship And Crime)
Link:
www.realcrime.at
Meeting point:
1:45 P.M. at the Az W MuseumsQuartier / Burggasse entrance
Museumsplatz 1
A 1070 Vienna
AUSTRIA
Departure: 2:00 P.M., return: 6:00 P.M.
Investigation Conducted by:
Michael Zinganel
Official Operations:
Max Edelbacher, head of the Vienna Sicherheitsb¸ro (co-author of the book 'Tatort Wien' with Harald Seyrl, director of the Vienna Criminal Museum)
Tickets EURO 12.00 / EURO 8.00 / daily from 10am to 7pm at the Az W Infoshop