sundays
sundays 96
On The Banks Of The Ljubljanica - Na Obrezju Ljubljanice
Fri 19.04.2002 – Sun 21.04.2002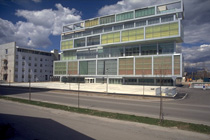 Ljubljana: The legendary Ljubljanica riverbank development is the work of the architect Joze Plecnik (1872-1957). His buildings dominate the view of Ljubljana even today, and form the focus for a 'sonntags' excursion in pursuit of Viennese Modernism and the students of Otto Wagner. With Max Fabiani (1864-1962) and Ivan Vurnik (1884-1971), two further exceptional personalities of this school contributed to the glowing revival of the capital of Slovenia following its destruction by an earthquake in 1895.
The opening up of the architecture scene to international currents continued in the second half of the century. The work of contemporary Slovenian architects as well as individual buildings built in the 1970s convey a broad view of the European format of architectural developments on the banks of the Ljubljanica.
Friday, April 19, 2002 / petek::
Stroll through the town to Krizanke
Dinner at the restaurant Plecnikov Hram (interior by Plecnik)
Saturday, April 20, 2002 / Sobota:
Vladimir Subic: Neboticnik, Skyscraper 1931-2
Max Fabiani: Hribar House, Palais Bamberg
Ivan Vurnik: Bank Union Building
Josip Vancas: Hotel Union and Bank
Joze Plecnik: Ljubljanica embankment development, three bridges, 1931-32 / Market and Market halls, 1940-42 / National and University Library, 1936-41 / the Krizanke complex, Chamber of Commerce, 1925-27
Plecnik's birthplace
Boris Podrecca: Architectural Gallery DESSA, 1988-89
Sadar & Vuga: Arkadia Buildings
Dinner in the restaurant Gorjanc (Slovenian specialities)
Sunday, April 21, 2002 / Nedelja:
Edo Ravnikar: the Ivan Cankar Centre 1978-82 / the Modern Gallery 1940-51
Sadar & Vuga: extension to the National Gallery 2001
Alesio Princic: Union glass facade 2000
Joze Plecnik: Church in Siska 1925-31
Perovic + Bevk: Spodnja Siska housing complex 2001
Sadar & Vuga: Chamber of Commerce 1999
Joze Plecnik: Zale Cemetery 1938-40
Milos Floriancic: commercial and apartment building 2002
Jurij Kobe: college for medical technicians 1998
Joze Plecnik: St. Michael Church, 1937-39
Meeting Point:
Friday, April 19; 2002, 1.45 P.M., departure: 2:00 P.M.
Entrance to the Az W, MuseumsQuartier / Burggasse
Museumsplatz 1
A – 1070 Vienna
Return to Vienna: Sunday, April 21, 2002, circa 10:00 P.M.
Conzept and coordination:
Vera Grimmer, Brigitte Redl
Tour guide:
Andrej Hrausky
Specialist:
Breda Mihelic
Tickets per person: incl. bus travel, 2 nights at Hotel Slon (4 star) incl. breakfast, 1 lunch packet, 3 meals, entrance to venues, guided tours of the projects. Drinks not included in price.
single room EURO 315, double room EURO 285.
Do not forget to bring a valid passport!
Minimum number of participants: 30
Deadline for reservations: Friday, March 22, 2002
Written reservations will receive an invoice + pay slip by return post. Payments to be made by Friday, April 05, 2002.
Reservations are confirmed upon payment.
Cancellations made after Friday, April 05, 2002 are subject to a 50% cancellation fee.
Links:
– Official Website of the city of Ljubljana
– Joze Plecnik´s Work
– Joze Plecnik on "Vitrvio.ch"
– Architectural Gallery DESSA
– RECENT SLOVENIAN ARCHITECTURE on Architronic
– Sightseeing in Ljubljana – A Virtual Tour of Ljubljana