sundays
sundays 95
The Wine Road (III)
Sun 07.04.2002, 09:45-18:00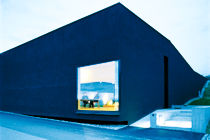 World Cultural Heritage Wachau: A UNESCO committee has declared the Wachau to be a World Cultural Heritage site.
Since the ancient Romans every epoch has left a rich architectural legacy on the striking stepped grounds and wine terraces on both sides of the Danube.
The monuments and landscapes of cultural significance have been listed by UNESCO, making it forbidden to destroy them in the case of war!
sundays Supplements The World Cultural Heritage (Part 1):
House Resch
Marbach an der Donau
Architects: werkraum wap
EVN Power Station
Theiss
Architects: Katzberger & Bily
Atrium-Based Houses In Vineyards
Gneixendorf
Architect: Ernst Linsberger
Loimer's Wine Loft
Langenlois
Architect: Andreas Burghardt
Meeting point:
9:45 A.M. at the Az W MuseumsQuartier / Burggasse entrance
Museumsplatz 1
A 1070 Vienna
AUSTRIA
Departure: 10:00 A.M., return: circa 8:00 P.M.
Buffet at the EVN power station, Theiss / wine-tasting and snack at the Loimer winery.
Architects:
werkraum wap, Paul Katzberger, Ernst Linsberger, Andreas Burghardt
Tour guide: Michael Diem
Specialists: Erich Raith, Karin Raith, Gordana Brandner_LANDLUFT
Tickets incl. Lunch packet EURO 40.00 / EURO 32.00 (Available daily from 10:00 A.M.- 7:00 P.M. at the Az W Infoshop)
Written reservations will receive an invoice + pay slip by return post.
Reservations are confirmed upon payment.