sundays
sundays 93
Home Looks Like This (II)
Sun 10.03.2002, 13:45-18:00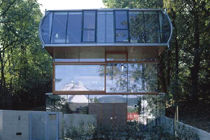 Four new single-family houses characterised by flowing spatial concepts and special material compositions provide the prelude to this summer's sonntagsArchitektur Sunday excursions.
The tube on the dissolved box of glass, timber and stone catches the sun and warms the building in winter. Surrounding trees become a part of the living space through generous glazing, and provide shadow in summer.
Sgl (single) and Dbl (double) are situated on a neighbouring site. Differences in the height of the grounds are continued into the interior of Sgl. Dbl is the architectural expression of the varying requirements of two sisters.
The Haus in Spe could be considered somewhat whimsical in form: "From the side it looks like a duck but it isn't one, and especially not from the back" (poolpage).
solar tube
Döbling
Architect: Georg Driendl
dbl, sgl
Hietzing
Architects: propeller z
house in spe
Hietzing
Architects: pool Architektur
Meeting point:
1:45 P.M. at the Az W MuseumsQuartier / Burggasse entrance
Museumsplatz 1
A 1070 Vienna
AUSTRIA
Departure: 2:00 P.M., return: 6:00 P.M.
Architects:
Georg Driendl, propeller z ArchitektInnen, pool Architektur
Tour guides:
Barbara Achleitner, Marion Kuzmany
Tickets: EURO 12.00 / EURO 8.00 (Available daily from 10:00 A.M.- 7:00 P.M. at the Az W Infoshop)