sundays
sundays 91
MASTERS PLANNING
Sun 25.11.2001, 13:45-23:59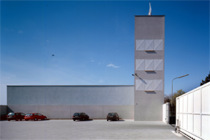 ARES TOWER HIGH-RISE OFFICE BUILDING
22nd district, Donaucitystrasse 1
Architects: Neumann & Partner
FIRE STATION Kaisermühlen
Architect: Adolf Krischanitz
Vienna on the Danube
Both of the buildings by the authors of the master-plan mark the acceptance and consistent realisation of the original planning concept for the Donau City.
The individual high-rises and the adjacent housing developments are reflected in the glass cladding of the panes to the Ares Tower, which are of various heights. The orientation of the towers, however, remains the permeation of views towards the Danube. A further step of the development of the City in the direction of an international skyline architecture.
At the western end of the 'Platte' (slab), the fire station: The terrace-shaped complex develops from a cut in a lying cube. The only vertical element is the practise tower. A state of preparedness, speed of departure when on duty and the regeneration of people and machines are the constituent planning prerequisites. An apparently casual solution nevertheless possessed of highly conceptual competence.
Meeting Point:
1:45 P.M. at the Donaucity Church (Subway station U 1 Vienna International Center)
Donaucitystrasse 2
A – 1220 Vienna
Architects:
Heinz Neumann, Adolf Krischanitz (Collaboration: Frank Böhm, Wilfried Kühn)
Tour Guide:
Barbara Achleitner
Tickets: EUR 8.00 (110.8 ATS)