sundays
sundays 90
omnibus dei (5)
Sun 04.11.2001, 14:00-23:59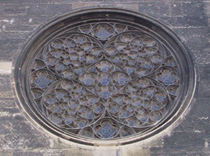 The normative power of the mystical rose
Learning from the Gothic
A Rose in the west tract of St. Stephan, the oldest part of the building as it stands today, shows the basic inspiration for all further phases of the cathedral's construction and contains the structural form of the most significant church furnishings from around 1500, the chancellery and the organ loft.
Van der Nüll's rational style of building, Semper's morphological approach and Wagner's style based on the usage of essential elements owe much to having studied the Viennese master mason of yore.
A study of the structural and spatial nodes and lines of the middle-ages is the prerequisite for an understanding of the Modernism of 1882.
A stroll through St. Stephan's accompanied by Otto Antonia Graf, following the trail of the rose.
Meeting Point:
02:00, P.M. Stephansdom, main entrance
Stephansplatz
A – 1010 Vienna
Tour Guide:
Otto Antonia Graf
Tickets: EUR 8.00 (ATS 110.08)