sundays
sundays 86
Budapest: An Orientation
Sat 22.09.2001 – Sun 23.09.2001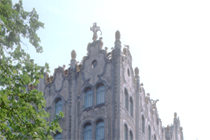 The search for the mythical roots of the Magyar identity has been the major theme of Hungarian architecture since the Austro-Hungarian Settlement. The sources of the national romantic style are to be found in the ornamental cultures of the Orient, in Persia and in India. The transformation of these stylistic elements in conjunction with new technology has achieved its most cultivated manifestation in the work of Ödön Lechner. The new art of architecture of the avant-garde and the influence of arts and crafts, here leaning on the old Finnish and Siebenburg regional forms of craftsmanship, are visible today as striking elements in the cityscape of Budapest.
The examples that have been selected are situated within this movement.
Saturday, September 22, 2001
Franz Liszt Music Academy, Liszt Ferenc tèr (Kálmán Giergl, Flóris Korb, 1904-7)
Pariser department store, Andrássy ut (Zsigmond Sziklai, 1908-12)
Paulay office building, Ede utca (Eric van Egeraat, 1997)
Parisiana bar and restaurant, Paulay Ede utca (Béla Lajta, 1909)
Mai Manó photo studio building, Nagymezy utca 20 (Nay-Strauszk, 1894)
Wekerle housing estate for white and blue collar workers, Kos Károly tér (Károly Kós, Dezsö Zrumeczky, Antal Palóczi, Béla Éberling, Lajos Schoditsch and others, 1909-13) – Tour Guide: Janos Gerle
National Theatre, former Expo grounds (Mária Siklós, 2002)
Sunday, September 23, 2001
Magház apartment building, Rottenbiller utca (Tamás Dévényi, 2001) – Tour Guide: Tamás Dévényi
Commercial college, Vas utca (Béla Lajta, 1909-12) – Tour Guide: Pál Ritoòk
Synagogue, Rumbach Sebestyén utca (Otto Wagner, 1871-73)
Orthodox Synagogue, Kazinczy utca (Béla Löffler, Sándor Löffler, 1912)
Post Office Savings Bank, Hold utca (Ödön Lechner, 1899-1901)
Bajai Pasar apartment building, Èti ut 7 (Farkas Molnár, 1937)
Villa, Hargita utca (Imre Makovecz, 1988)
St. Antal Church and bus-stop (Gyula Rimanóczy, 1934-37)
estate of villas, Napraforgó utca (József Fischer, Róbert Kertész K., Farkas Molnár and others, 1929-31)
Pannónia film studio, Hüvösvölgyi út (Lajos Gádoros, 1953)
Conzept and Coordination:
Monika Platzer
Guide:
Márta Branczik
Experts:
János Gerle, Pál Ritoók, Tamás Dévényi, András Hadik
Meeting Point:
Saturday, September 22, 2001, 07:45 A.M., Departure 08:00 A.M.
at the entrance to the AZW MuseumsQuartier / Burggasse (corner of "Volkstheater")
Museumsplatz 1
A-1070 Vienna
Return in Vienna: Sunday, at around 11:00 P.M.
Tickets: incl. travel, hotel + breakfast, 1 lunch packet, 2 full meals, 1 snack, entrance fees, guided tours of the projects, (does not include drinks)
Double room: Euro 190.- (ATS 2,614.46), single room: Euro 211.- (ATS 2,903.42)
Min. no. of participants: 25
Deadline for reservations: Friday, September 07, 2001
Package price to have been paid by Monay, September 10, 2001 to Bank Austria, a/c No. 686 125 626, BLZ 12000 (don't forget your name !)
Cancellations made after Friday, September 14, 2001 are subject to a fee of 50% of the ticket price.
Links:
– Epiteszforum Hungarian ArchitectForum
– The Budapest Sun Online
– ::: budapestweek.com :::
– maghaz