sundays
sundays 78
home looks like this (I)
Sun 29.04.2001, 13:45-18:00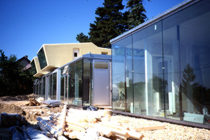 Liesing:
Single family home – House Stuetz
Architect: Walter Stelzhammer
Hietzing:
Single family home – House Hackenbuchner
Architects: Pichler &Traupmann
Ottakring:
SPS building on Wilhelminenberg
Architects: querkraft architects (dunkl erhartt sapp zinner)
The form that the buildings have adopted, the treatment of the form of the grounds, viewing levels and skyscape impressively reflect the individual signature of the architects responsible for the planning in dialogue with the clients.
Three instances of homeliness placed on a piece of land.
Meeting Point: 01:45 P.M. at the main entrance of the MuseumsQuarter Vienna, Museumsplatz 1, A-1070 Vienna
Departure: 02:00 P.M., return: 06:00 P.M.
Architects:
Walter Stelzhammer, Pichler & Traupmann, querkraft architects
Tour Guide:
Marion Kuzmany
Tickets: EUR 10.95 (ATS 150.-) / EUR 7.30 (ATS 100.-)