sundays
sundays 45
(Un) Familiar: On the Liesing
Sun 26.09.1999, 13:45-18:00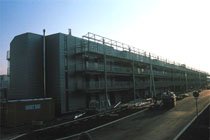 23rd district, Living Ark Atzgersdorf, Ziedlergasse
Architect: Walter Stelzhammer
"The stacked generations"
Stelzhammer's highly condensed system of single family homes, each built bar-shaped over an atrium as a lung and light body allows for variable use scenarios with autocratic units, separable according to function or generation.
10th district, Thermal Estates Oberlaa, Grundäckergasse
Architect: Helmut Richter
"Dimension liberation!"
In its technoid elegance, Richter's construction at Grundäckergasse is more of an exception in the context of public housing. Large window panes, loggia and refined development create the character of an extroverted living form.
Meeting: 1:45 p.m. at the Architekturzentrum Wien
Departure: 2:00 p.m.
Return: 6:00 p.m.
Tour guides: Maria Welzig with Walter Stelzhammer and Helmut Richter
Ticket fees: EUR 10.95 (ATS 150.-) / EUR 7.30 (ATS 100.-)